We are pleased to invite you as a potential delegate for the Miss Africa scholarship program. Kindly read the following rules and regulations of the program, sign, and proceed to apply.
Who May Join
Females with African descent ( 1st to 3rd generation). Ages (18-30).
Contestants must be in good standing with their respective schools and or organizations.
Married or separated individuals cannot participate.
Score Points
Personal Interview: 20 points
African Traditional outfit: 20 points
Talent: 20 points
Evening Gown: 10 points
Parade of Nations: 20 points
On Stage Interview: 10 points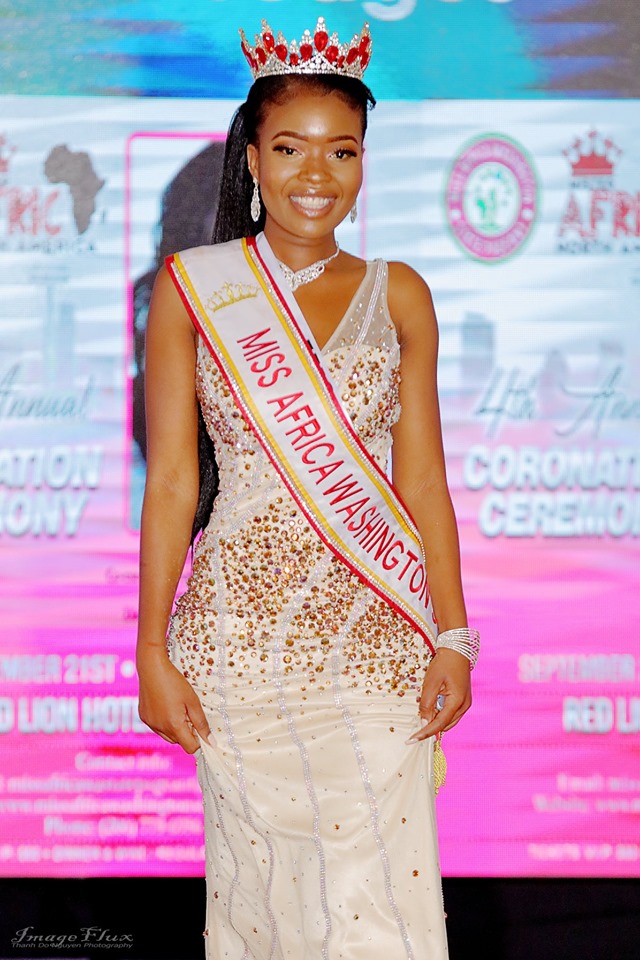 Delegates Requirements
Each Delegate must sell a minimum of 10 tickets, and return the proceeds to the pageant director.
Delegates must attend all meetings and rehearsals; there will be elimination process as the pageant progresses.
On the pageant day, all delegates are expected to arrive at the venue at on time.
Delegates must have their hair and make-up done.
Hair stylist and the make-up artist would be provided, but if for any reason they are not provided, delegates are required to bring your stylist and make-up artist.
Each delegate may bring only one (1) person inside the dressing room. Delegates must NOT bring or invite anyone else inside the dressing room.
GKFolks Foundation & Miss Africa Organization the producer of the Miss Africa pageant reserves the right, at its sole discretion to refuse or reject any application from a prospective delegate and to eliminate any delegate from the pageant at any time for any violation of the rules and regulation. Decisions of the pageant director and board of directors are final.
Where there has not been a previous arrangement, delegates are responsible for their transportation and accommodations.
GKFolks Foundation & Miss Africa Organization or Partners is not responsible for any lost, stolen or damaged property of the delegates, their friends or their families, including any damage, lost or stolen dress from sponsors or anything given by our sponsors to the delegates.
The Winner and the runner-ups will be chosen on the pageant night. All cash and gift prizes awarded are subject to the completion and fulfillment of the winner's obligations during their respective reign. GKFolks Foundation & Miss Africa Organization reserves the right to distribute the prices at any time within twelve months from the pageant day.
If any sponsor elects in their sole discretion, to cancel or modify the prizes/gift they have agreed to provide, then the prizes/gifts will be so canceled or modified without any given notice.
GKFolks Foundation & Miss Africa Organization would not be held responsible or liable for modified or canceled prizes/gifts or any other action by the sponsors or the grantor of these prizes.
If the delegates fail to comply with the pageant requirement, all the prizes are subject to forfeiture.
The Miss Africa Queen will reign for one year, during which she cannot participate in any other pageant six months after MAU or similar events without first obtaining the express written consent of GKFolks Foundation & Miss Africa Organization. The queen and runner up must strictly comply with the winner's contract and rules and regulations. Failure to comply will result in dethronement. If the winner is dethroned or decides not to continue her reign, The first runner up will take the title of Miss Africa, including crown, sash, and prize. And trophy must be immediately returned in the same condition as it was when received within ten (10) days.
If any delegates or winner disparage, defames, libels or slander the pageant, GKFolks Foundation & Miss Africa Organization, including its employees, agents, sponsors, contractors, any judge, advertisers, committee members or any volunteers, such a delegate shall be eliminated from the pageant or dethroned and stripped of her title and prizes as the case may be.
Miss Africa is a trademark name owned and operated by GKFolks Foundation & Miss Africa Organization; any use of the names must get prior written approval from GKFolks Foundation & Miss Africa Organization.
Requirements Of The Queen
The New queen agrees to work with any organization that would require her help and has the sole aim of helping Africans, less privileged, the homeless or those in any need in African or around the world .
The queen would also be required to make tours, to help promote her platform.
The Queen would be required to help in the organization, planning, publicity and recruiting of African ladies for the next pageant.
The queen will serve the community by sharing her culture and organizing charitable events.
General Requirements
All tabulation result, including all judges scoring sheets are the property of GKFolks Foundation & Miss Africa Organization, and are trade secret, sticky confidential. GKFolks, Foundation & Miss Africa Organization, has the right to show or refuse to show the contestants the judging sheet if requested
The Judges' decisions are final, no delegate, including representative, has the right to challenge the result. The delegates hereby voluntarily waive any rights to challenge or other contest the result of the pageant. Any question about the scoring system must be raised at least a week before the pageant.
Neither GKFolks Foundation & Miss Africa Organization and its employees and agents, not any promoters, entertainers, judges, staff, volunteers, advertisers and sponsor of Miss Africa shall not be liable for any sickness, injury or accidents suffered by any delegates or her accompanying parties before, during and after any event or rehearsal. Delegates are required to sign a hold harmless agreement with GKFolks Foundation & Miss Africa Organization.
All application must be submitted before the deadline, with all required filed properly filled out including pictures, a signed application, and the contract. Incomplete applications will NOT be considered. All payment such as ticket fee, registration fee, etc. is non-refundable.
Only one applicant from each country in Africa will participate. If for any reason we receive more than one applications from one country, we will select the applicant that will best represent that country after the audition.
GKFolks Foundation & Miss Africa Organization reserves the right to amend or supplement the rules and regulations at any time, written notice of such shall be provided
HOLD HARMLESS AGREEMENT
I agree to indemnify and hold harmless indefinitely GKFolks Foundation & Miss Africa Organization and its employees, agents, affiliates, staff, entertainers, judges, sponsors, and volunteers, from all claims and damages, losses, and expenses, including but not limited to, attorneys fee and cost, by reason of any suit, claims, demands, judgments or cause of action, initiated by any person or entity arising or alleges to have arisen directly or indirectly from the pageant and all events and activities associated therewith.
I certify that I thoroughly read and understood the rules and regulations of Miss Africa pageant. I agree to abide by them and all other terms and conditions of the pageant and affix my signature below as evidence of my acceptance thereof. I further agree to provide GKFolks Foundation & Miss Africa Organization 36 hours of receipt notice. All information and evidence requested of me to establish my compliance with all rules, regulations, terms, conditions, and restrictions of Miss Africa Pageant. I further agree that I shall have no contact directly or indirectly, written or oral, with any of the judges before the pageant. I agree and relinquish forever any claims to legal or equitable relief arising from this agreement or directly arising from Miss Africa pageant or GKFolks Foundation & Miss Africa Organization.
I agree that I shall not disparage, defame, libel, or slander GKFolks Foundation & Miss Africa Organization, Miss Africa, sponsors, judges, staff, employees, volunteers, and committee members or anyone connected with the pageant. I understand that my obligation commences upon signing the contract and remain in effect before, during, and after the pageant. My failure to comply with the rules and regulations of Miss Africa shall subject me to disqualification from the pageant and forfeiture of any title and prizes associated in addition to that.